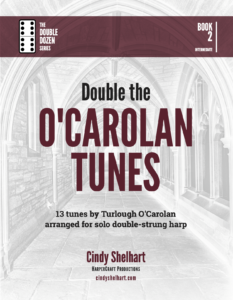 My newest book, Double the O'Carolan Tunes (Book 2 of The Double Dozen Series) is coming soon!
While it's in production, I thought it might be a good time to answer some questions about this new book of arrangements for double-strung harp.
---
So, what's in the new book? Anything digital to go with it? 
You can play music from this book if:
Can I play these arrangements on MY double-strung harp?
Where do the tunes come from? Which ones are in the book?
Double the O'Carolan Tunes is available in 2 versions: a PDF digital download, or a print book/PDF download combo package. If you're a print book person, you'll love how the coil binding opens flat on your music stand, and the PDF is perfect for tablets! (I love using mine on my 12.9" iPad Pro with the forScore app.)
You can pre-order your copy of either version today for the first shipment (available by November 2021) right here.
Cheers!
-Cindy
PS: If you'd like to preview an arrangement from Double the O'Carolan Tunes, I'll send you a PDF copy of Carolan's Welcome. It's yours when you join my list. Thanks!
PPS: And if you're wondering how I arrange these tunes for double-strung harp, guess what? I've got a new book in the works about this… stay tuned for articles, videos, and more!