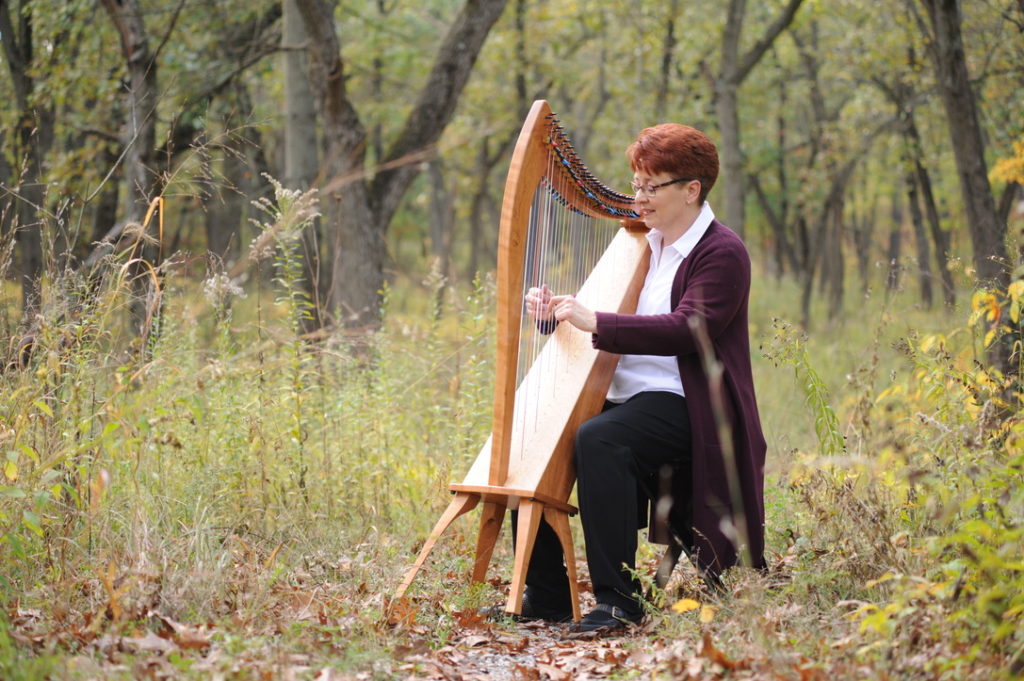 When I first came to harp as an adult, I didn't know what to expect. Harps come in all shapes and sizes. They don't have to be the huge pedal harps you see in symphony orchestras or Harpo Marx movies. In the 30+ years I've been playing and teaching, I've only grown more fond of how versatile and fun playing harp can be! 
Whether you're totally new to the harp, or you've been playing for a while and want to level-up your skills, my mission is to make playing the harp accessible to everyone interested in learning. It's not just about the music you can make, but the ability to express yourself creatively in new ways, which is one of the reasons I love it so. 
Double-Strung Harp Lessons
My specialty is double-strung harp. Not only is it a modern take on a classic instrument, double-strung harp is also the most flexible and accessible of all harps. It's portable, it's affordable, and it allows you to express yourself in so many ways. Because it's still fairly new, not a lot of people know how versatile the double-strung harp can be. I'm on a mission to tell the world about just how awesome this instrument is!
Adult Harp Lessons 
My harp studio is open to adults at all skill levels – from curious beginners to those looking to master their instrument. If you are looking for lessons for children or adolescents, I'm happy to refer you to a trusted colleague. Feel free to contact me for recommendations. 
Online Harp Lessons 
I currently offer lessons online via Zoom video conferencing. This means you can study harp with me from anywhere in the world! Work on technique, learn new tunes, or take advantage of my knowledge of the contemporary
double-strung harp.
Lessons and coaching sessions are available to fit your schedule and musical goals. My students tell me I'm fun, creative, motivational, and organized in my teaching style, so you get a lot out of each lesson.
F.A.Q. 
How long are harp lessons?
Lessons are 45 minutes long. 
How often should I have a harp lesson?
Twice a month is a great way to build your skills, giving you time to practice in between lessons.
Do I have to read music to be able to play the harp?
All students experience learning by ear, reading music, and musical improvisation in an organized and motivational environment. 
What kind of harp music will I be learning in my lessons?
Although I specialize in early music and traditional Scottish & Irish music, other musical styles may be available for study upon request. I've arranged and recorded contemporary songs by artists like Duane Allman and Chick Corea, so your only limit is your imagination! 
What kind of harp do I need for harp lessons?
Double-strung harp lessons are available for harp players with experience on other harps. Each student learns individualized nylon- or gut-strung lever harp technique, along with double-strung harp playing and arranging techniques. Harps with at least 19 strings on each row are welcome (recommended lowest notes: G below middle C, or lower). I also teach students who play single-row harp.
Will you lead a workshop for our harp circle or conference?
Hands-on workshops and lecture/demonstrations are available for harp organizations, festivals, and other interested groups throughout the United States. Workshop topics include early music, Scottish and Irish repertoire, music for lap harp and double-strung harp, harp ensemble, performance skills, and "Discover the Harp" for future players. Master classes and other workshop topics are available by request. 
Additional questions? Contact me and let's talk!