Double-Strung Harp Day
Can you believe it? 29 years ago, on September 7, 1992, I picked up my first double-strung harp at the Fox River Valley Folk Festival in Geneva IL. (That's why I always celebrate September 7 as Double-Strung Harp Day.)
So… not only have I performed, recorded, arranged, composed, & taught double-strung harp for 29 years… today also begins YEAR 30! I've got big plans in store, and I'll start by telling you about a couple of new additions to Harp Central.
New harp: Hi, I'm Dunstan
On May 19, my awesome new Double Morgan Meghan harp arrived from Rees Harps. It's a 27×2 double-strung harp, which means it has 27 strings in each string row (that's 54 strings, for those of you keeping score at home). It's technically a lap harp, but has a big, warm voice. (Videos coming soon!)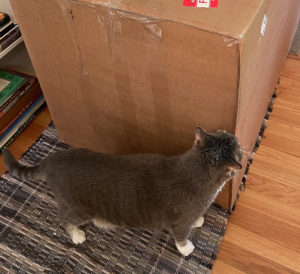 The harp body's made of cherry wood, and the soundboard is poplar with a maple veneer. The most eye-catching part is the custom soundboard, handpainted and handgilded (yes, it's real gold leaf!) by Rees Harps' own Garen Rees. Garen and I came up with the design from photos of medieval churches, and this Westminster Abbey holiday ornament (inspired by the Abbey's triforium windows).
Why Dunstan? May 19, the day my harp arrived, is also the feast day of St. Dunstan of Canterbury (924-988). Among other things, St. Dunstan helped found St. Peter's Abbey—the beginning of Westminster Abbey—and HE PLAYED THE HARP.
For real. And I'd never heard of this guy before.
So it all adds up: Harp delivery date on the feast day of a harp-playing saint? The Westminster Abbey connections? You know I had to name that harp Dunstan. You'll see and hear Dunstan in upcoming videos!
New book coming soon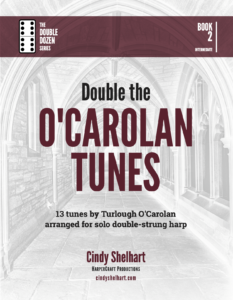 The next book in the Double Dozen arrangement series is… Double the O'Carolan Tunes!
Stay tuned for more information in my next post. And if you want to be the first to know about the new book, make sure to sign up for my mailing list.
Cheers!
-Cindy