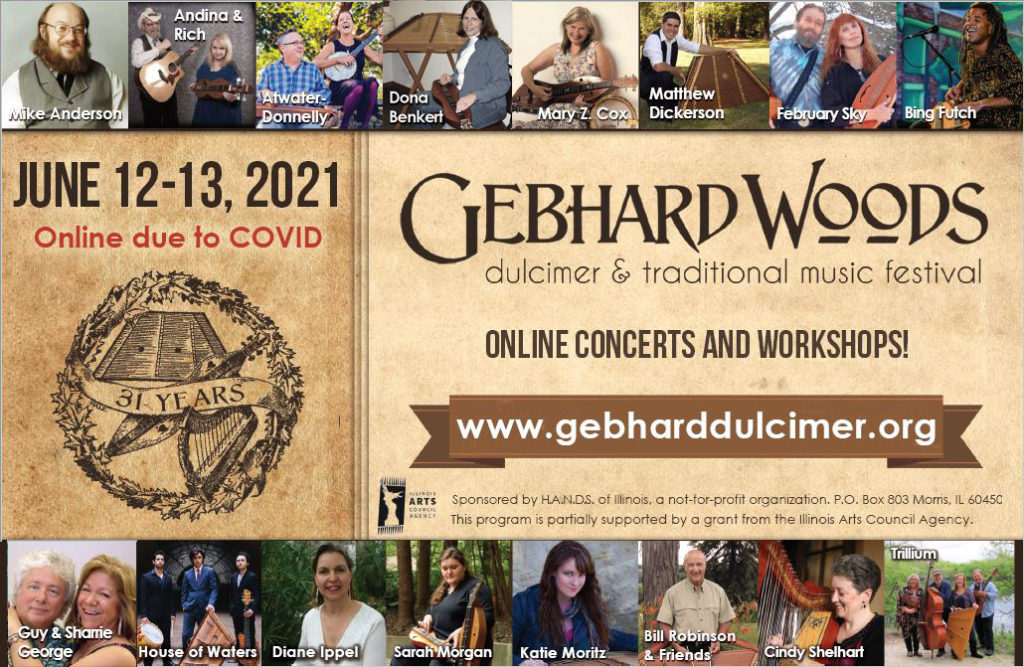 Finally! Excited to return as the harp headliner at the 2021 Gebhard Woods Dulcimer & Traditional Music – yes, they have harp! This year's virtual festival is free, with no registration needed.
My concert and both workshops are all on Sunday, June 13, 2021. The harp workshops are for *all* lever harps (key of G tuning); be sure to download handout PDFs before the workshops . I'll feature the double-strung harp in my concert set.
My Sunday, June 13 GWDF concert and harp workshops (all times US Central):
1:00 PM: Workshop: Flora & Fauna: Outdoor Tunes for Indoor Harpers.
2:30 PM: Main Stage double-strung harp concert set (prerecorded).
4:00 PM: Workshop: Fit for a Queen: English Country Dances for Lever Harp.
GWDF Festival Home Page: http://www.gebharddulcimer.org/2021
GWDF Facebook and Insta: @gebhardwoodsdulcimerfest
The Festival Home Page is the hub for all GWDF activities, including my concert set and workshop links. You'll need Zoom technology to participate in the Main Stage, Workshops, and Community Tent.
Zoom Workshops: access via the GWDF Festival Home Page. The Zoom link for each workshop will appear ca. 10 minutes before the hour, and you can join the workshop until 10 minutes after the hour. You'll also need a camera and microphone on your device for workshops.Download harp workshop PDF handouts, and the workshop schedule, on the GWDF workshops page: http://www.gebharddulcimer.org/workshops-2021
GWDF performance schedule page: http://www.gebharddulcimer.org/concert-schedule-2021